Free International Shipping from 80€
Room1015 - ROOM 1015 – SCENTS OF NOSTALGIC FREEDOM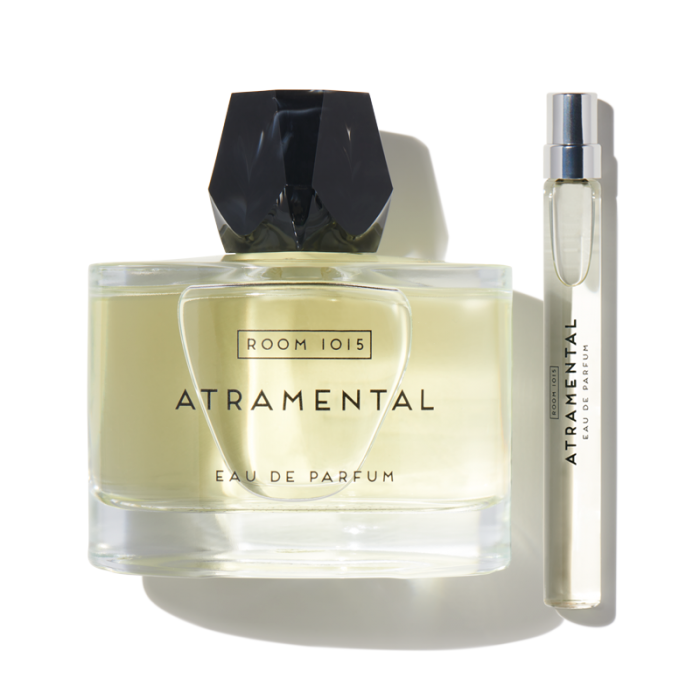  
ATRAMENTAL | DUO PACK
Your tattoos tell your story, your dreams and your protests… Your skin is clean, but not blank. Eau de Cologne does not erase black water. In a strum, BERGAMOT succumbs to BLACK PEPPER. CISTUS excites the top notes. CARDAMOM and an AQUEOUS NOTE float away and indelible ink warms the skin with SAFFRON notes that stay. RESINS and SUDERAL bleed over the heart. CASTOREUM structures the skeleton, deeply imprinting it with its animal fascination. A tribal scent, a mental decal.
"The idea behind ATRAMENTAL was to create a perfume inspired by the tattoo experience with notes of leather and ink. A fragrance with a raw feel: Castoreum and smoked leather notes that remind the damaged skin, metallic notes as a reference to blood and notes of ink together with fresh and clean bergamot. So addictive…just like tattoos." Dr. Mike
Head Note: Bergamot, Lemon, Cistus, Aqueous Note
Heart Note: Cardamom, Black Pepper
Base Note: Dry Woods, Saffron, Suderal, Castoreum
Perfumer: Anne-Sophie Behaghel
No animal ingredients
Alcohol Denat., Parfum (Fragrance), Aqua (Water), Benzyl Alcohol, Citral, Geraniol, Limonene, Linalool.
Listen to your fragrance
Atramental
Composed by Pat Dam Smyth