Free International Shipping from 80€
Room1015 - ROOM 1015 – SCENTS OF NOSTALGIC FREEDOM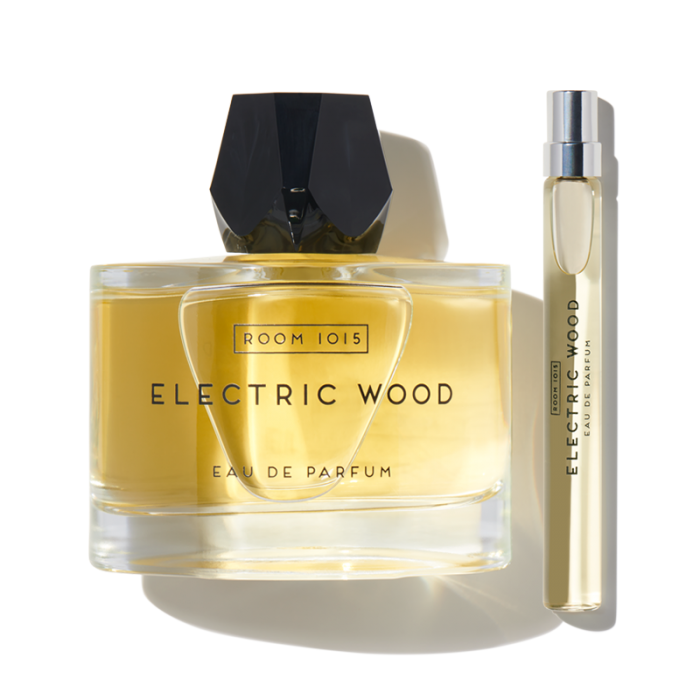  
ELECTRIC WOOD | DUO PACK
The guitar case opens with a shudder to reveal its composed clutter: the electric shock of lacquered wood and the metallic slap of tight strings. (AMBROXAN for the punch of wood and an overdose of CEDAR for a noble touch…). The sweat of overheated, mistreated wood (OAK WOOD and HYDROCARBORESIN for a sensual thrash). Late-night ash, a cloud of air, an injection of the past right into the veins (IRIS and NUTMEG for their dust-powder aspect).
"A woody fragrance straight out of a guitar case, with powerful notes of cedar and powdery Iris notes. I will always remember the day i got my first guitar. I was 12 years old, It was a Gibson. I was struck by its smell, like an unique mix of wood, lacquer and metal… I think the perfume ELECTRIC WOOD was born that day." Dr. Mike
Head Note: Nutmeg, Lemon, Sage
Heart Note: Cedar Wood, Oak Wood
Base Note: Ambroxan, Iris, Musk
Perfumer: Anne-Sophie Behaghel
No animal ingredients.
Alcohol Denat., Parfum (Fragrance), Aqua (Water), Citral, Geraniol, Limonene, Linalool.
Listen to your fragrance
Electric Wood
Composed by Pat Dam Smyth